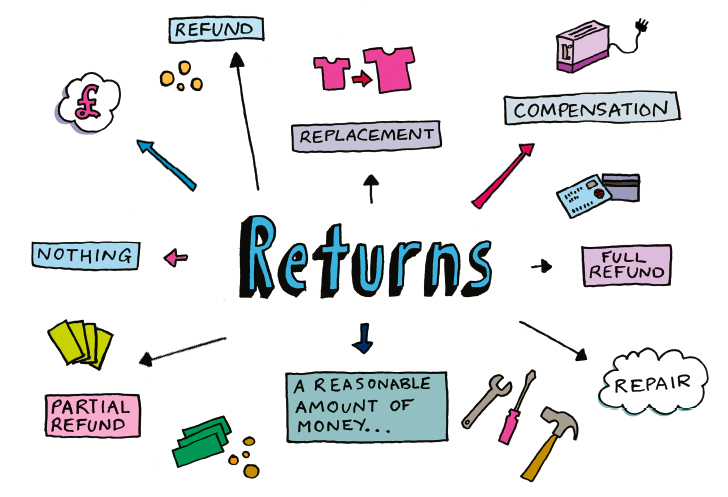 Problems with unsatisfactory goods cost consumers an estimated £2 billion a year. The Office of Fair Trading (OFT) wanted to improve knowledge of the Sale of Goods Act amongst businesses. Their goal was to see more complaints being resolved by businesses themselves in order to reduce the need for government intervention.
The OFT's approach consisted of long guidance documents written in a dry and legal tone. They wanted a fresh approach. Our strategy team delivered a comprehensive engagement programme with businesses of all sizes—from corner shops to multinationals. We observed that these were busy people and getting them to devote time to improving their knowledge of the Sale of Goods Act was extremely challenging. They found the current materials hard to use because their staff all had different needs—till workers needed short summaries, legal directors wanted detailed information and human resources sought training materials. While the materials needed to be legally accurate, they also needed to be jargon-free and easy for a layperson to understand in order to be suitable for the audience.
Serious doesn't have to mean boring
Our solution was to develop a website that could house a range of materials, each one designed to meet the needs of a different user—short summaries for till workers, quizzes for training and detailed guidance for lawyers. Working closely with the OFT's legal team, our copywriters were able to turn their legal output into engaging materials. Observing that serious doesn't have to mean boring, our design team took a dry subject and presented the content in a simple, friendly and fun manner. Working with a digital partner, we built a website to house the new content in one, easy-to-access location.
Independent research was commissioned to evaluate the project, which found that retailers had observed their staff becoming more confident and empowered in customer dealings and that less queries were being referred upwards from stores.
It's a brilliant resource, brilliantly done. It's filling a gap for businesses.
---
Retail business staff member
Following the success of the Sale of Goods Act hub, our approach has become a blueprint for regulatory guidance, and has been rolled out to a number of other areas of regulation.